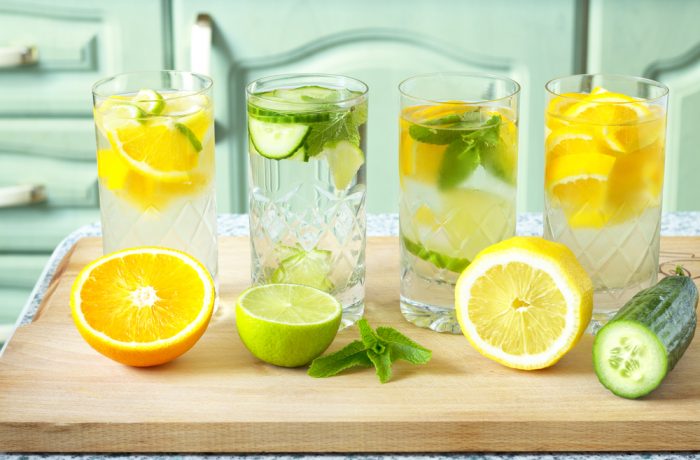 We know that drinking water is good for us, but it can be challenging to constantly drink water when we would rather reach for a glass of fruit juice, a soda, or an iced tea. You might even be someone who can't stand the taste of water. You would rather mix artificial sweeteners with fruity flavors to help you enjoy it more. You have compared the tastes of spring water versus purified water or tried different sparkling water brands to make drinking water more tolerable. Here are a few ways you can make water tasty and enjoyable without adding artificial sweeteners or taking in too much carbonation.
Best ingredients to add to make water more delicious
You may want to consider purchasing a water bottle that contains a filter or straw for these recipes. You can also look for specific water bottles made for infused water. Another option is to put these ingredients together with your water in a pitcher and keep it in your refrigerator. You may find that some of these drinks taste better even the day after you've put the ingredients together. While water straight out of hot and cold water dispensers will suffice for most, here are a few options for those who want to add more flavor:
1 ingredient add-ins
If you're looking for the simplest way to change how your water tastes, try one of these concoctions to your fresh mountain spring water with just one simple ingredient.
Lemon water
You've likely had water at a restaurant and asked for lemon slices. Try adding three to four (or more) slices to your water at home. Adding lemon slices to your water will give you a refreshing, bright taste. Lemon is also helpful for promoting focus, healthy digestion, and a speedy metabolism.
Cucumber water
Adding slices of cucumber to your spring water will add a cool, fresh taste. You may find that drinking the water immediately after adding sliced cucumbers won't give you much of a different taste. We recommend adding a handful of cucumber slices to your water in a pitcher or water bottle and allowing it to sit for several hours or overnight before drinking. If you don't care for soggy cucumbers, you can always remove them before drinking and adding new slices. Try adding lemon slices too.
Grapefruit water
If you love grapefruit, you will definitely enjoy this infusion. Adding slices of grapefruit to your water gives you a sweet citrus flavor without the sour bite of lemon. It's a perfect springtime or summer drink.
Cantaloupe water
This is a refreshing option for the summertime. Enjoy ripe cantaloupe slices or cubes in your glass of ice water for a refreshing, sweet flavor. You can also try adding pieces of honeydew if you prefer that melon to cantaloupe or combine the two.
2 or more ingredients
If single-ingredient isn't enough flavor for your water, try these water infusion recipes.
Pineapple-mint-ginger water
If you really need a flavor boost for your water, or even if you're looking for something new and out of the ordinary, you have to try pineapple-mint-ginger-infused water. Add thin slices of ginger and muddled mint leaves, along with cubes or slices of pineapple to enjoy a tropical taste while enjoying the health benefits of mint and ginger together.
Watermelon-mint water
This is another beloved summertime beverage. If you've got watermelon in your home, cut some up small cubes, and add at least one cup to a pitcher of water and several sprigs of mint or a handful of mint leaves. To really boost the flavor, muddle the melon and mint before adding water.
Orange-fennel water
This is a nice infused beverage to drink after dinner or any meal. The combination of orange and fennel together promotes healthy digestion. Be sure to add fresh, thin slices of fennel and orange.
Tomato-celery-bell pepper-basil water
Who says your water infusion has to be restricted to fruit? Why not try adding vegetables? If you're a fan of tomato juice or bloody marys, you have to give this concoction a try. Dice tomato, finely slice cucumber and add chopped basil leaves to your water.
Your body deserves the best
There are different ways to drink water and you don't have to sacrifice taste when you make healthy choices. Ditch the sugars and artificial flavorings for natural ingredients to infuse in your water. Your body deserves the best, high-quality ingredients — and this includes drinking high-quality water. We take pride in the quality of our resources at Lipsey so we can bring you the freshest, high-quality water for our customers. Make drinking water easier on yourself by ordering Lipsey water and getting it delivered to your door. If you're curious to learn more about our product, contact us today. If you're not sure about Lipsey water, try it for two weeks, for free.