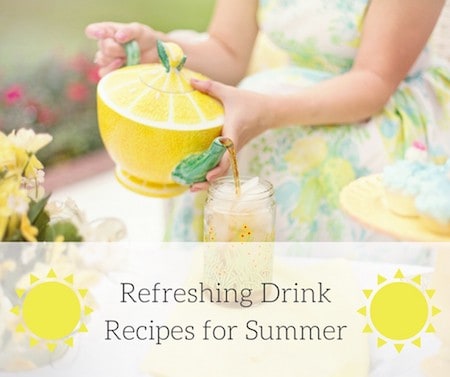 The end of summer may be in sight, but here in Atlanta, the days are still scorching hot. In order to get you through the blistering summer heat, it's advisable to drink plenty of water. Because Lipsey Mountain Spring Water provides both hot and cold water dispensers to Atlanta, you have no excuse NOT to drink plenty of water. With refreshingly cold and steaming hot spring water at your fingertips, you have access to the tools to make any refreshing drink recipe that you desire in mere minutes. Below we have compiled a list of some of our favorites.
Refreshing Cold Drink Recipes for the Summer
Some of the easiest and best tasting water-based drinks involve an infusion of healthy, ripe fruits. Try your own mix of fruits and vegetables, including pineapple, kiwi, cucumber, or whatever you desire. Or try our favorite, a combination of strawberries, lemon, and a handful of basil. This delicious concoction is a crowd pleaser – guaranteed!
For a light and refreshing twist on a breakfast favorite, try mixing 2 mandarin oranges, previously cut into wedges, with a handful of blueberries and ice. The recipe is unbelievably refreshing and perfect for a hot and humid summer day.
For the best results with these two delicious recipes, you'll need to make sure you are using the highest grade water possible. Pure Spring Water is recommended, but well-filtered water will work in a pinch.
Refreshing Hot Drink Recipes for the Summer
Residents of hot climates all over the world have figured out that an icy drink isn't the only way to keep cool. When things get too hot, they break out equally hot liquid treats to keep the body running on cool.
One of the most delicious and healthiest hot drink recipes combines warm lemon water, sweet honey and a touch of turmeric. Turmeric is an incredibly powerful nutritional supplement with chemical compounds called curcuminoids, with curcumin as the most powerful anti-inflammatory agent. This compound is an antioxidant that assists your body in absorbing other antioxidants. Curcumin has been linked to delaying and reversing brain diseases and improving blood vessel function to reduce the risk of cardiovascular disease.
As with cold water drink recipes, you can feasibly add any type of fruit or vegetable to warm water for a soothing taste that will get your inner A/C humming. We recommend lemon and turmeric but you may also try other blends of fruits, teas and spices.
It's Possible to have Great Water at all Times!
At Lipsey Mountain Spring Water, we believe in drinking as much water as possible. Many people avoid plain water because of its bland taste. However, as we have described above, there are many ways to improve the taste and health benefits of your natural spring water. Contact Lipsey today and find out how you can try pure hot and cold Spring Water in your home for free!