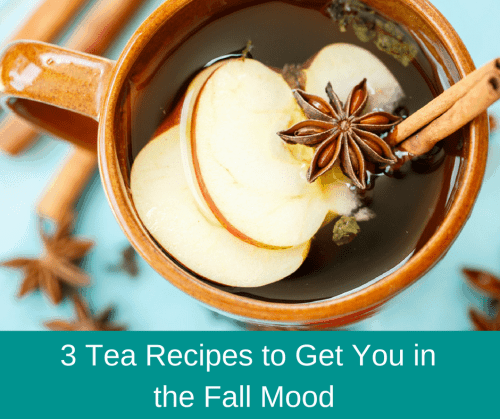 When temperatures drop and there's a distinct chill in the air, it's the perfect weather for tea season. Adding warm scents and other festive flavors will take your tea to the next level.  
Hot mugs of tea are even better brewed using fresh water from your hot and cold water dispenser. Atlanta may not experience true seasonal shifts, but these three tea recipes are sure to put you in an autumn state of mind. 
1. DIY Chai Tea Latte
Nothing says fall like a spicy chai tea. You don't need to stand in line at the coffee shop to get your fix — use this five-ingredient recipe instead. No milk frother required! 
Start with a chai tea bag, and steep it in 8 ounces of hot water for 3-5 minutes. Add one tablespoon of sugar (raw is best), stirring until it's dissolved.  
Put a quarter cup of Half & Half into a small mason jar, and heat for 40-45 seconds. Using a towel, take the hot jar out of the microwave, put the lid on, and shake it for 10 to 15 seconds.  
Pour the frothy liquid over your tea, scoop out the excess foam, and sprinkle with cinnamon. Now you can enjoy your delicious, homemade latte.  
2. Spiced Apple Tea
Snuggle up with this delicious, simple tea recipe. Start by boiling a cup of water with two cinnamon sticks and four whole cloves in a small sauce pan. Once it boils, turn off the heat and add two tea bags. Cover and steep for three minutes. 
Once it's steeped, remove the tea bags, and stir in a cup of apple juice. Heat on low, simmering for a few minutes. When you're ready to serve, place two apple slices in two mugs. Pour the hot tea into the mugs, while being careful to strain out the cinnamon sticks and cloves. Sit back, sip, and enjoy.
3. A Taste of Autumn Tea
Get all your favorite seasonal tastes in one refreshing tea. This recipe yields 12 servings, making it a great choice for group gatherings. 
Start with a large, heat-resistant bowl. Place five individual tea bags in the bowl, using whichever flavor you prefer. Pour 5 cups of hot water into the bowl, steep for 8 minutes, and discard the tea bags when you're done.  
Bring out the fall flavors next. Stir in ½ cup sugar, 1/3 cup lemon juice, ¼ teaspoon pumpkin pie spice, 2 cups of cranberry juice, and 5 cups of apple juice (unsweetened works best). Stir until everything is dissolved, and enjoy it warm or over ice.  
Use Better Water for Better Tea
If you truly want to enjoy your tea, brew it with fresh and delicious Lipsey Mountain Spring Water. Our dispensers give you the added convenience of hot and cold water taps, so you don't have to wait for your water to heat.  
Experience the Lipsey Water difference for yourself with a free two-week trial. Contact us or call 770-449-0001 to get started.