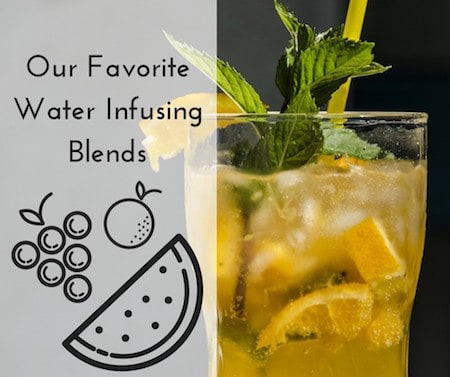 To remain healthy, you should consume 2 liters of water every day. That's 2 glasses at each meal. This may not sound too demanding, but there are many people who just can't stand the taste of plain water. Even Lipsey Water, your premier provider for home water delivery in Atlanta, with our delicious, chemical-free mountain spring water, may seem bland to some people. However, there are many unique and exciting ways to enhance the flavor of your water this summer and beyond. With a couple of our favorite infusion tricks and a Lipsey water dispenser, you can have delicious water that you'll love to drink 24/7.
Check out these refreshing ideas, experiment, and share your successes with the Lipsey community. We'd love to see what you come up with!
Our Favorite Ways to Infuse
Infuse Fruits and Vegetables
Fruits and vegetables are always a super easy way to add some flavor. When combined with the crisp, fresh taste of mountain spring water, you can produce a delicious concoction for the whole family to enjoy. Try adding some lemon, lime, cucumber, or zucchini. If you're feeling ambitious, you can add them all. Strawberries, tomatoes, and pineapple also make good additions to fresh spring water.
Infuse Herbs or Spices
The addition of herbs and spices are also an exciting way to produce delicious water. Of course, the most popular herb to add is mint. In fact, mint can add an exciting twist to any fruit-flavored mountain water infusion. Try mixing mint with lemon, watermelon, pineapple, or cucumbers.
Another good spice to try is cinnamon. In particular, cinnamon and apple is a favorite in summer and fall, often enjoyed with ice and a fancy red umbrella.
Infuse Homemade Frozen Treats
Our favorite method for delicious water is achieved with frozen treats, such as frozen juices or blended fruits. Find an ice cube tray and freeze coffee, or real fruit juices such as pomegranate, raspberry, or pineapple. If you're feeling adventurous, try mixing multiple frozen cubes into a single drink. Not only will frozen treats keep your drink cold but they also release their flavors more slowly, for those who like to savor their drinks.
Infusion Conclusion
As you can tell, there are various exciting ways to infuse your water this summer. At Lipsey, we've tried all of these neat tricks. However, nothing beats a delicious base of pure, fresh, and crisp Lipsey Mountain Spring Water. Our water comes straight from the source, the Blue Ridge Mountain springs. No matter the fruit, vegetable, spice, herb, or frozen treat that you try, the biggest game-changer is the Lipsey fresh promise. Contact us today for two free weeks of Lipsey's water delivery service. You'll taste the difference right away.