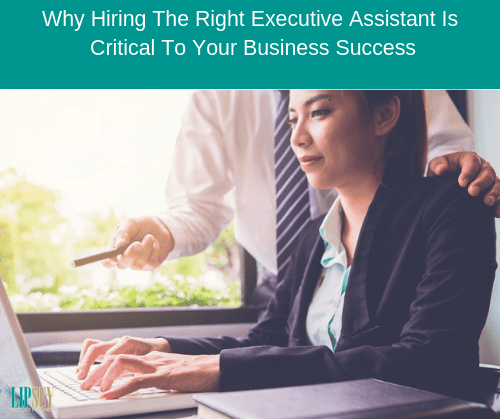 Today's businesses are increasingly dependent on the role of the Executive Assistant. In fact, this is particularly obvious when you look at the job availability data. Executive Assistant positions have been in growing demand for the past 50 years.
Not only has job availability grown, data shows that salaries have also increased, albeit slowly but consistently. On average, today's Executive Assistant makes around $50,000 – $60,000 per year; however, these numbers can certainly fluctuate depending on experience and the type of company. Nonetheless, with decent job availability, ability to grow within the position, and an average salary 1.5x the national average, the Executive Assistant is an increasingly attractive role for professionals of all ages.
So what exactly does it take to become an Executive Assistant? What are the qualifications and core roles? With an above-average pay-grade, one would expect heightened responsibilities and managerial-duties. Let's take a quick look at a few of the fundamental roles of today's Executive Assistant.
Who is the Executive Assistance?
So who is the Executive Assistant and what does their job entail? Let's break the title down to gain a better understanding. The word executive applies to an individual or team that exercises administrative or managerial control. Likewise, the term assistant describes a person that provides supplementary support or assistance. Together, the Executive Assistant is responsible for providing support or assistance to high-level managers, executives, or officers within a company.
Naturally, the role of the Executive Assistant is both extremely diverse and rather high-level. In other words, the Executive Assistant is expected to be knowledgeable and well-versed in a variety of administrative tasks such as payroll, scheduling, onboarding, and IT assistance for top-ranking company agents (like CEOs, owners, or other high-level managers).  Some executive assistants will be the first office manager for some companies.  In addition to many of these administrative roles, they might be tasked with ordering supplies and staying on top of the office water delivery service.
With such far-reaching responsibilities, a typical Executive Assistant makes key business decisions within the company, contributes to the business operational strategy, and can be responsible for marketing and branding initiatives. Note how fundamental most of these responsibilities are. Undoubtedly, this individual's work output has major implications for the company and is critical to the success—or perhaps failure—of the business.
The Essential Skills
Now that we have a basic understanding of the significance of the Executive Assistant position, let's visit a few of the core competencies associated with the role. Remember, since the position is inherently diverse and company-specific, particular roles and responsibilities will vary widely. However, there are some common skills that a successful Executive Assistant should possess, regardless of the details of their specific employer. Here are a few worth noting:
Excellent Communication Skills: the Executive Assistant often-times acts as a liaison for multiple parties. You must be comfortable and clear when conversing with others—whether colleagues from within the company or external parties like customers or vendors. Simply put, this skill must be mastered. An Executive Assistant that lacks the ability to communicate clearly, effectively, and comfortably will be problematic.
A Capable Multi-Tasker: according to a 2018 survey of experienced assistants, the most desired skill for the effective Executive Assistant is time-management, particularly when it comes to multi-tasking. To be successful in the role, you must be able to multi-task effectively. Completing each task one-by-one would be an incredibly wasteful use of resources and time. Time-management—paired with effective prioritization—is central to the role of the Executive Assistant.
An Ability to be Systems-Minded: its important for the Executive Assistant to be a systems thinker. What exactly does this mean? A successful Executive Assistant must be able to see the big picture. As we said, the role is responsible for a number of high-level processes that may seem unrelated but are actually interdependent. The effective assistant is capable of tying these seemingly isolated processes together and to understand the larger picture. This typically requires networking and maintaining clear and friendly communication with different department heads, or perhaps even external representatives.
A No-Nonsense Problem-Solver: finally, a successful Executive Assistant is a problem solver. Obviously, not all problems are the same. In fact, some of the most common issues that Executive Assistants must address cannot be tackled alone. Again, this is where great communication and people-skills come in handy. The bottom line is that the Executive Assistant must be able to find ways to solve problems.
The Final Word
To sum up, the typical Executive Assistant can come from a range of prior workplaces and educational backgrounds. This isn't too surprising, as the role involves an incredibly diverse range of competencies and skills (namely great communication skills, an ability to multi-task, a system-minded perspective, and an ability to solve problems).
Importantly, most of these skills are honed through years of experience, rather than acquired through education or training. For example, one study found that the majority of currently-employed Executive Assistants have at least 11 years of prior working experience. Eleven years is quite a bit of time, but perhaps unsurprising when you consider the far-reaching administrative duties that the position demands. Not to mention, the scope of the role seems to be expanding, now including tasks associated with information technology and even human resources.
The bottom line: Executive Assistants earn better-than-average salaries, however they have heaver-than-average workloads. From calendaring to payroll, the Executive Assistant is expected to do the high-level delegation, scheduling, and organization. A successful Executive Assistant is key to a company's well-being. Conversely, an inadequate assistant will cause incredible hardship for colleagues and other top company officials.