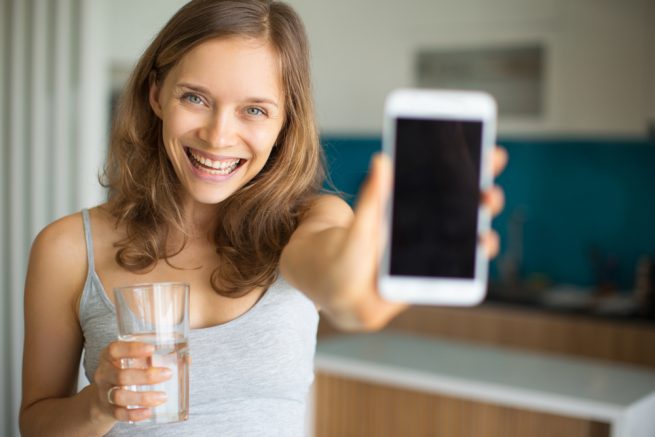 We're almost halfway through the year! Are you still keeping up with your goals? Whether you added "drink more water" to your resolutions list or not, there is still time to change your habits and up your water intake for a healthier you. But how do you know if you're drinking enough water? And how do you keep track of how much you're drinking every day? Signing up for home water delivery in Atlanta is an excellent first step to take in making this task easier on yourself. But there are also apps you can download on your smartphone to help you keep track of how much water you're drinking. Here's a list of the top four apps you can try to help you drink enough water every day.
Four top water tracking apps to try
You know that drinking water is good for your overall health. Maybe you know exactly how much you need to drink too. But it can be tedious to keep track of how much you're consuming every day on your own, especially when you're keeping tally marks on a post-it or constantly updating a note on your smartphone. Try downloading one (or try them all!) of the apps below to see which one is the best help you hold yourself accountable.
1. Drink Water Reminder
This app is very considerate of you as the user. It uses a lot of information about your specific daily life, like where you live, what climate you live in, and how the temperature might affect your body. Of course, as the name of the app suggests, its primary use is to kindly remind you at different points of the day to drink more water. You can customize the reminders depending on how often you'd like to be reminded or how many notifications you enjoy getting from an app. You can set reminders as frequently as 10 minutes or as spread out as every three hours.
2. Plant Nanny
If you are looking for a water tracking app that's cute and engaging, you'll want to check out Plant Nanny! This app makes keeping track of your water intake into a fun little game. Of course, the purpose is to help you remember to drink water throughout the day. You can choose how often you'd like to receive notifications. Plant Nanny helps you stay healthy by recording your water intake and associating it with growing little plants. You can unlock different kinds of plants and watch them grow each day as you record your water consumption.
3. Water Reminder – Daily Tracker
Sounds close to the Drink Water Reminder app, right? This app is another top-rated water intake reminder. This app will help you determine how much water you should be drinking every day, send you gentle reminders via notifications (intervals that you set), and helps you keep yourself accountable. This app will also let you record the different types of drinks and add however much water they contribute to your daily intake.
4. Water tracker Waterllama
Waterllama isn't just another fun, cutely illustrated water-tracker app. The creators of this app understand how vital drinking water is for you. Like the other apps, Waterllama lets you set your own notifications. It also lets you record all the types of beverages you've been drinking throughout the day. Waterllama will help you set goals, keep a "winning" streak going, and uniquely creates different health challenges. These challenges are called Sober Bear, Weight Loss Sloth, and No Cheat Cheetah, all of which provide a simple explanation of their purpose by their names. If you're someone who wants to challenge themselves more with drinking water for overall health benefits, definitely check this app out.
Stay hydrated the easy way
Whether you're out and about or working from home, you can make staying hydrated easy. Try downloading one of these apps to challenge yourself and stay accountable. Of course, the easiest way you can drink more water and stay hydrated is by ordering Lipsey water and getting it delivered to your door.
We bottle our water at the source at the Blue Ridge Mountains. All of our water comes in pharmaceutical-grade glass coolers that are made in Murano, Italy. We take pride in the quality of our resources so we can bring you the freshest, high-quality water for your, our customer. If you're curious to learn more about our product, contact us today. If you're not sure about our water, try it out for two weeks, on us. That's free water for you! We hope you stay healthy and happy.