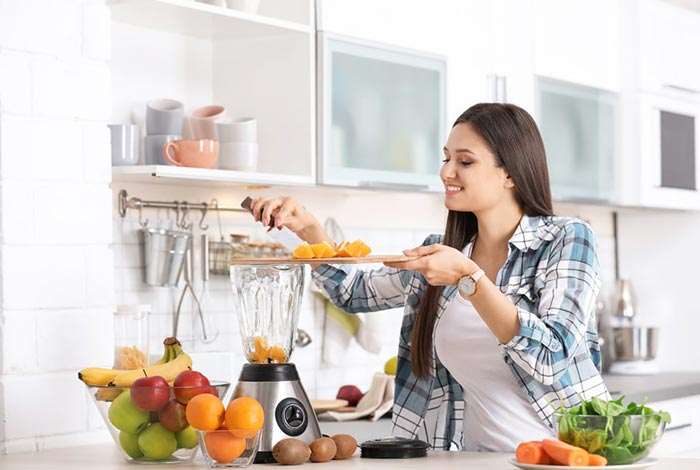 Summer is the best time of year to enjoy smoothies with fresh, flavorful fruits that keep you hydrated and fill you up with vitamins, minerals, and antioxidants. Summer fruits like berries, peaches, and melons all come into season during the summer months so you can skip the frozen versions. Delicious summer smoothies help you stay cool while you enjoy fun in the sun. There are also great benefits to the type of liquid base you use for a smoothie, which might cause you to wonder about spring water vs. purified water for your yummy, summer smoothies.
Springwater comes from underground aquifers and this type of water is known for its great taste from all the naturally occurring minerals. This type of natural, pure water source allows for more minerals in the water that can be beneficial to your health. When it comes to spring water vs. purified water, it helps to understand that spring water goes through a natural filtration process, while purified water is more heavily treated and these filtration systems can sometimes remove those naturally occurring minerals. Use spring water in your summer smoothies for an additional boost of natural minerals to keep you hydrated on hot days!
Here are five summer smoothies that will keep you hydrated and refreshed all summer long:
The Classic: Strawberry & Banana
The strawberry and banana smoothie is the classic smoothie combo and can even serve as a base for many other smoothies. When strawberries come into season during the spring and summer months, they are even juicier and sweeter than their frozen counterparts you may use during the cooler months. Combine fresh-picked strawberries, a ripe banana, and spring water or a fruit juice base of your choosing for a quick and easy summer refresher.
The Tropical: Strawberry, Banana, & Pineapple
Pineapple has such a sweet, tropical flavor that makes it a perfect addition to summer smoothies. You can add it to your classic strawberry and banana smoothie for a splash of tropical flavor and fun. The more pineapple you add to your smoothie, the more of that sweet flavor will come through and have you feeling like you are lying on a beach while you soak up the sun. Pineapple is also full of nutrients and antioxidants that support your digestion and even boost your immune system.
The Very Berry: Strawberry, Blueberry, & Raspberry
Berries are in season during the summer months, so what better way to celebrate than with a very berry smoothie? Fresh strawberries, blueberries, and raspberries are even sweeter and juicier when they are in season, plus they are packed with nutrients and antioxidants. Combine these berries with spring water or coconut water and get double the nutrients while you stay hydrated with these summer fruits.
The Southern Classic: Strawberry, Banana, & Peach
Georgia peaches come into season in the late spring and summer months, which makes them a perfect addition to your summer smoothie. Add peaches to your classic strawberry and banana base, or even toss some peaches into your very berry smoothie for added sweetness and flavor. Peaches are full of vitamins and minerals that come with amazing health benefits like healthier skin and improved digestion. Peaches are also a great low-calorie addition to a smoothie that can help make your sweet summer treat even more enjoyable.
The Greenie: Cucumber, Avocado, & Pineapple
If you're into adding greens to your smoothies, then consider this refreshing combination of cucumbers, avocado, and pineapple for a delicious twist on a summer smoothie. Cucumbers contain a lot of water and are packed with nutrients and fiber that help promote hydration. Combine refreshing cucumber with avocado for a creamy base and then toss in some pineapple for a fun, tropical flavor and enjoy all the benefits of these nutrient-dense fruits and veggies.
The Benefits of Nutritious, Hydrating Summer Smoothies
When it comes to hydrating in the summer months, smoothies offer nutrient-packed options with natural sugars, nutrients, vitamins, and minerals. Smoothies with fresh fruit are great for summer because they offer a fresh, natural alternative to sports drinks and other imitation fruit flavors that are typically packed with sugars. Enjoy the natural flavors of fresh fruits and stay hydrated with spring water so you can get a ton of vitamins and minerals while you sip on delicious, smoothies all summer long!