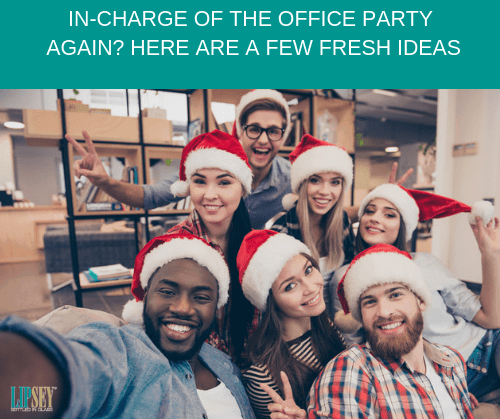 Party planning is surely no-joke. While some coworkers may see the office party merely as a few extra hours away from their usual day, many fail to notice the preparation and forethought that goes into planning an office event.
While conventional parties are nice, they're often-times unremarkable and fail to build team-cohesion. A key responsibility of the party planner is to prepare an event that everybody enjoys and that builds group-chemistry. Is it possible to please everybody? Perhaps not, but throwing an interesting event can muster worker-confidence and help build office relationships.
7 Ideas for the Non-Conventional Office Party
Throwing the ideal party truly depends on the character of your colleagues and your workplace environment. Here are a few quick ideas that stretch beyond the typical office party and press the envelope in terms of party expectations.
Everybody Loves a Good Potluck
Conventional office parties tend to use local delivery services to cater food and drinks for party goers. While pizzas and sub sandwiches are nice, they're rather boring. How about a potluck? For an office party potluck, everybody will bring a dish to pass (if they choose to do so). In other words, everybody prepares a small dish to share with everybody else. Colleagues that enjoy cooking get to showcase their skills, while those that aren't so gifted in the kitchen can bring chips or cookies instead and others, in charge of the office water delivery. The potluck is a great way to get conversations flowing during the party.
Another quick idea: for workplaces that consist of workers from different regions of the world, encourage party-goers to bring something that's traditional to their native countries. Again, this is a great way to get people talking and learn more about their colleagues.
Make it Competitive with Office Olympics
Everybody enjoys some friendly competition; how about office Olympics? Again, getting colleagues moving and talking will liven up the party, and allow them to become more familiar with one another (this is especially true for workers that work in different departments, and thus spend little-or-no time with each other).
A major challenge with office Olympics is, of course, creating games to compete in. Fortunately, the internet can be incredibly useful if you're lacking that creative spark.
Organize a Scavenger Hunt
If the office Olympics may be a bit too intense or physical for your group, creating a Scavenger Hunt is another great idea to get colleagues up and moving-around. Not only are Scavenger Hunts enjoyable, they force people to work as a team, communicate, and problem solve together. Remember, the key to a great office event is to allow colleagues to build comradery while having fun. A Scavenger Hunt is a great way to do this.
Similar to the office Olympics, the main challenge is creating the clues and different stages of the Hunt. While it may be more enjoyable to write your own clues, there are plenty of great Scavenger Hunt ideas online. Don't feel confined to the office either. Party-goers may appreciate getting outside to do the activity, especially during more stressful times of the year.
Plan an Escape Room Adventure
Are your office events limited to the office? If not, it's a great idea to get out of the work environment for a few hours to really loosen-up. In our last idea, we discussed how Scavenger Hunts are great for building comradery and team-chemistry. Likewise, planning an escape room adventure is a great way to get colleagues working-together, talking, thinking, and solving problems as a group.
For those unfamiliar with escape rooms, here's the basic idea: a group of people are "trapped" in a room. They have set amount of time (usually 1 hour) to escape the room by solving a series of cryptic puzzles and clues. Escape rooms force individuals to work together and communicate.
Show some Team Spirit
A simpler way to add some spice to a conventional office event is to include a theme. An easy and intuitive theme that everybody can enjoy is team spirit day. Here, party-goers are encouraged to wear team gear or attire that showcases their favorite sports team. Doing so will facilitate conversation among colleagues. In all honesty, team spirit day isn't exactly going to "bring down the house", however it's incredibly easy for all to participate (and most everybody has sports gear or apparel of some sort).
Another great thing about team spirit day is that the theme can extend into the food options. Traditional sports-associated dishes such as chicken wings, nachos, or hot dogs are easy, accessible, and enjoyable for most people.
Breakfast for Lunch
Speaking of food, a great idea to deviate from the normal sandwich/pizza office party is to plan for breakfast instead. Healthy breakfast options such as smoothie bowls are easy, inexpensive, and enjoyed by most people. While on the topic of health, make sure to stay hydrated with a glass of water. One of the greatest parts about breakfast is the morning coffee. If possible, set-up a coffee bar where party-goers can create their favorite caffeinated drinks. Fortunately, you don't have to organize and set-up your breakfast alone. Many local and non-local companies offer group discounts for particularly large orders. In-fact, smaller shops may even be willing to set-up a coffee or juice bar, and act as a caterer for the event.
What are we Celebrating Again?
Thus far, we haven't talked much about party themes; however, this isn't because the party theme isn't important. A theme is an easy, quick way to add a bit of spice to the event and get people out of their comfort zone. Great lists of party themes can be found all over the internet, and exploring them here is a bit beyond the scope of this post. However, there's one clever and simple idea that's definitely worth sharing.
Most offices have parties to commemorate common holidays such as St. Patrick's Day, Christmas, or Valentine's Day. However, what about some of the less popular holidays, like Pi Day or Talk Like a Pirate Day? While these "holidays" are obscure and ridiculous, they are a great way to apply a unique theme onto a conventional party. Celebrate all things Bacon on National Bacon Day (December 30), or everything beer on international Beer Day (August 3). These strange themes can add a bit of fun to an otherwise unremarkable day.