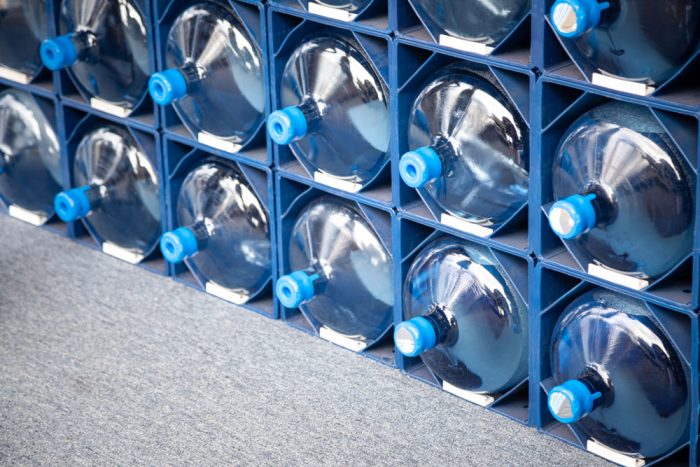 Whether you're searching for a hot and cold water dispenser for your home or office in Atlanta, Lipsey Mountain Spring Water has options to suit your needs and your tastes. For over 30 years, Lipsey has been serving the Atlanta area the purest water and the best water dispensers. We're the pure-water experts, so when trying to decide between dispensers or which size water jug to subscribe to, we can help. We've had lots of practice, and great results, guiding customers into the right subscription size for their needs.
What's the Right Size Water Jug for Me?
When trying to plan for your water consumption needs, it's essential to understand just how long a 5-gallon jug of water will last. A 5-gallon jug will give you about eighty 8 oz glasses of water. With Lipsey's hot and cold water dispenser for your Atlanta home or office, even a small family of 2 people could go through one 5-gallon jug of water in just 5 days when following the recommended servings of water per day. It's recommended that each person drink at least eight 8 oz glasses of water per day, and that's before factoring in any tea, coffee, or other beverages you might make from your 5-gallon jug of Lipsey Mountain Spring Water.
If you've got a bigger family to consider, you'll find endless uses for your hot and cold water dispenser in your Atlanta home. Perfect for filling up everyone's water bottle at the beginning of a school day or for refilling everyone's sports bottles before their various practices. Lipsey's hot and cold water dispenser in your Atlanta home helps keep your family hydrated and healthy. Because of how pure and clean Lipsey Mountain spring Water is, you'll want to use it for everything. Drinking water, water for coffee every morning, and the base for a healthy smoothie. And, if anyone in the house comes down with a cold, it's the perfect time to make use of the hot water dispenser to make some soothing tea or as the base of a healing soup.
Depending on how often you want to have your water jugs delivered, you could definitely go through multiple jugs per week.
What Should I Use for My Office?
If you're planning on enjoying Lipsey's hot and cold water dispensers in your Atlanta office, you'll want to think strategically so you don't run out of delicious, pure, mountain spring water. You'll need to think about all the office needs, the same as you would when considering how much water your family needs when considering how much water to keep on hand and how frequently you'll want bottled water delivery.
Maybe you have an office that doesn't use the typical small styrofoam or paper cups by the water dispenser. Instead, maybe all of your employees keep refillable bottles on their desks for when they need a drink of water. No matter the case, gauging your staff's drinking habits is crucial to understanding how long a 5-gallon jug will last your office. You'll also need to understand how many people are making additional drinks using this water. Think about all the instant coffees or wellness drinks that people consume in addition to their daily water intake. And how many people prefer an afternoon tea after lunch to keep them engaged?
Depending on the size of your office, you may even want to consider having two separate water dispensers in your office to keep your staff hydrated and healthy. In addition to providing your staff with the purest, healthiest, and best-tasting water possible, you're also saving every person in your office from purchasing plastic water bottles. Every 5-gallon water jug is equivalent to more than fifty 12 oz plastic water bottles. The environmental impact your office will have from consuming water from recyclable glass bottles will have everyone going in for another glass of crisp, refreshing water. The environment will thank you, and your staff will thank you, too.
Whether it's for your home or for your office, you can never go wrong with Lipsey Mountain Spring Water's hot and cold water dispensers, and we think you'll never be able to get enough of the pure, clean taste of mountain spring water.